African Safari Cost is determined by a number of factor,
There is no doubt that going on an African Safari is a bucket – list experience, it is every bit as great as the countless photographs and videos that adorn the internet will stand testimony to, and while being on one is a dream come true for many, countless travelers experience a moment of shock when they first come across the prices of an African Safari.
With the general perception of Africa being a developing continent, many expect nations like Kenya, Tanzania to be cheap destinations, however, remember, safari business is big in Africa and there's plenty of things to be considered when planning an African Safari.
But, what goes into the cost of an African Safari?
We are glad you asked. Read on and be better prepared to plan that dream African safari you have been waiting for all your life.
There are various factors that contribute to the final price of your safari. We list them below and hope they will help you plan a better trip in the future.
01. Standard of Accommodation plays a big part in your African Safari Cost
Accommodation is a huge part of cost for your African Safari. Thankfully though, we now have something to offer for each budget. Be it camping under the stars in the middle of Serengeti, to comfortable lodges, or tented camps to luxury hotels, there is something to suit everyone's taste and budget.
When planning a safari we actively tend to strike a balance between comfort, cost and staying in great locations.
It might be worthwhile to have camping component for few nights and then balance it out with an incredible lodge for your last few nights.
Our GlobalJourneys Expert can prepare a quote based on your directives and often can recommend a healthy mix of different styles to tailor your experience in line with your budget and taste.
02. Duration also determines your African Safari Cost
The price for your safari is obviously determined by its length. With longer safaris tending to be more expensive than shorter ones.
If you are on a tight budget – We recommend booking our 05 Day Mara Magic Experience, which packs in 3 Full days of exhilarating game drives covering the Big 5.
If you want a longer safari for less money , then we recommend a combination of the below factors that will help in reducing the cost without compromising the quality of your safari.
1 – Try to visit as a group
2 – Time your safari on Shoulder or low seasons
3 – Choose your accommodations carefully.
03. Number of Travelers can play a huge part in your African Safari Cost
The number of people traveling together is the single largest factor in deciding how expensive of well-priced your safari will be.
Consider this – If only 01 – 02 persons travel together, apart from the park entrances and accommodation,  they will need to split the cost of the safari vehicle and the guide and other associated fees , this can be considerably lowered if you are travelling in groups of 04 – 06.
Consider bringing friends or loved ones to make this a more affordable and memorable experience, after all, remember, the more the merrier
04. Time of the Year can also play a significant part in your African Safari Costs.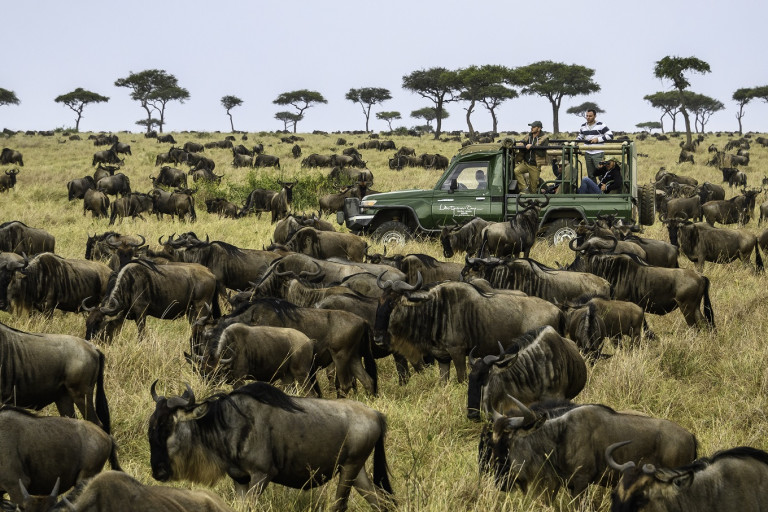 The last major factor in the cost of your safari is going to be the time of year you are visiting.
Prices are highest during the peak seasons of December – February and June – August, when lodges are getting plenty of business and the attraction of the great migration draws crowd from world over.
If you consider to visit during the shoulder seasons, then you will observe that the accommodation prices dip by atleast 15 -20 %, and plus with the lesser crowds, exploring the park is even more fun and exciting.
Get to Know 5 Least visited and unknown National Parks of India here
05. What National Parks are on your Itinerary
With almost 50 National parks between Kenya and Tanzania alone , there is a vast variety of choices you have and depending on what you choose, will determine how much you end up spending .
For instance , most visitors to Africa visit either the Serengeti , Ngorongoro or Masai Mara , these big ticket parks come with big ticket expenses. Since they are extremely popular they charge a higher entrance fee than say Tarangire of Lake Naivasha National Park + hotel and lodges around these park tend to be expensive as well.
For instance Ngorongoro conservation area has a substantial crater fee that makes it an incredibly expensive day on your African Safari.
Choosing your Parks wisely can greatly contribute to your overall African Safari Experience and costs.
06. Which Optional Activities do you plan to do ?
Most of our Safari tours have full day game drives between 6 am and 6 Pm already included in your cost , however there are a number of other activities you might want that will quickly add up the costs.
From the relatively inexpensive guided walking safaris ( Appx 50 USD per Head )  to pricier experiences like a hot air balloons safari ( Appx 500 USD per head )  & Night game drives, your final safari price can include this or be a separate component based on your preference to help you budget accordingly.
07. Will you be taking flights within Africa during your Safari
Flying between Parks and countries in Africa is incredibly expensive , unlike developed nations that have plenty of low cost airlines making flying cheaper and easier,in Africa this options is not available , and short haul flights can routinely cost upwards of $ 300 – $ 400.
Lastly, for those flying between parks or combining countries, it is important to note that on some days you will be paying for two cars.
If you're being driven to the Isebania border crossing between Kenya and Tanzania, an empty car has to come up from Tanzania to meet you and an empty car has to drive back to Nairobi after it has dropped you off.
This can be the biggest additional cost in many cross-country or flying safaris. We recommend planning well to keep such costs under control.
GlobalJourneys can arrange both domestic and local international flights for your itinerary.
We never charge a commission on flights, so you'll be getting the same price from us as you would be able to find online.
08. What Extra Costs will you incur on your African Safari
While our safari quotes cover the essentials such as meals, accommodation, private game drives, park entry fees, transfers, and included activities, there are a few things you'll need to budget for in addition.
International Flights
While GlobalJourneys can assist you in booking your international flights, these are generally not included in your total price.
Travel Insurance
All GlobalJourneys safaris enjoy complimentary Flying Doctors Insurance to cover emergency evacuation, but you'll want a comprehensive travel insurance policy for the duration of your safari.
You're perfectly safe while on safari with us, but it doesn't hurt to have some extra coverage in case you are sick or injured while you're traveling.
A good travel insurance policy will also cover things such as flight cancellations, theft, and the like.
Souvenirs & Snacks
GlobalJourneys safaris include full board accommodation, drinking water while on safari, and tea & coffee while on safari.
If you're looking to enjoy an ice cold beer, a refreshing sundowner, or a late night snack at your lodge, this cost will be in addition to what you have already paid.
Some lodges on your safari might be Fully Inclusive and include selected alcoholic and non-alcoholic beverages, particularly if you're staying on Zanzibar.
Know what makes Birding at Bharatpur Bird Sanctuary so amazing Here.
08. What is the Tipping culture on an African Safari
It is customary to tip the staff who make your safari so unforgettable. As a general rule of thumb, the below should be used as a guideline:
Safari Driver: $20 USD per day (per group);
Safari Chef (when camping or climbing): $15 USD per day (per group);
Climbing/Trekking Guide: $20 USD per day (per group);
Porters: $5 USD per day (per person)
These are all just a guideline, so feel free to tip more if you're especially happy with your service.
Your African safari can be as cheap as 1000 USD per head or 10000 USD per head.
We calculate you African safari cost based on all the above factors and it is simply a rough guideline.
When you factor in international flights and the cost of your safari, it can seem like a sizeable investment and while an African safari is certainly not cheap, it's one of those once in a lifetime adventures that you'll be talking about for years to come. Just be careful not to fall in love, or you might make it a yearly thing…
GlobalJourneys has been arranging wildlife holidays in Africa for a decade now, with precise tailoring, expert advice , great network and flawless execution we have earned the trust of thousands of travelers to plan their trips to perfection. Write to us at travel@globaljourneys.in or speak with one of our expert travel advisors on +91 8879170009 and get amazed by our awesome travel experiences. Learn more about our African Destinations here