Check out these 10 top things to do in Madagascar and get inspired to travel to this magical land.
Located several hundred miles off the coast of Africa, Madagascar is one of the most unique places on Earth. It is a land with many different faces – golden shores, lush mountains, jagged limestone karsts and plunging, arid canyons. These eclectic habitats are home to an incredible variety of wildlife, 90% of which is found nowhere else on Earth. There is something for everyone in Madagascar, whether you're looking to relax on untouched beaches or to plunge off the grid into pristine rainforest.
Of all Madagascar's weird and wonderful creatures, lemurs are without a doubt the most iconic. With nearly 100 different species, all of which are only found here, these charismatic primates range in size from the tiny pygmy mouse lemur to the majestic, monochrome indri. The best way to spot then is to head to one of its many national parks. While exploring the island's parks, do also keep an eye out for other endemic species including tenrecs, civets and the cat-like fossa.
Intrinsically woven into the fabric of African folklore. In the past, indigenous people depended upon their products for survival, and as such, these strange trees are often called the "Tree of Life". Although they can be seen all over the island, the most famous place for baobab-worshipping is the Avenue of the Baobabs. Located in the Menabe region of western Madagascar, the Avenue comprises some 25 trees strung out like sentries along a dirt road that make for a dramatic scene amidst the otherworldly landscape.
08.Explore the Tsingy Forests
Madagascar is full of extraordinary scenery but perhaps the most striking of all its alien landscapes are the limestone karsts of northwestern Tsingy de Bemaraha. Approximately 200 million years ago, the limestone seabed was pushed upwards, creating a vast plateau. Over time, the plateau was eroded, eventually becoming a dense "forest" of jagged limestone needles interspersed with canyons, waterfalls and almost impenetrable forest. An incredible sight and one of the best top things to do in Madagascar
With approximately 280 bird species in Madagascar and well over 100 of them endemic to Madagascar, this is a prime birding destination. There are three main regions for those in search of these winged beauties – the eastern rainforest, the southern spiny bush and the deciduous forests in the west. The best time for birding is in late spring or early summer (August to December), when birds are at their most active and are dressed in their finest breeding plumage.
Inspired to travel , then head over here and get all the details you will ever need to plan a trip to Madagascar
06.Enjoy Whale Watching Safaris
Those heading to Madagascar between July and September should make their way to the northeastern island of Île Sainte-Marie to witness the annual humpback whale migration. More than 7,000 humpback whales migrate from Antarctica to Madagascar to breed and the whale watching chances are some of the best in the world. Plus, with so few tourists here, you aren't going to be hoarded in a crowd with more boats than Whales.
05.Trek in Isalo National Park
Like a museum dedicated to the art of the desert canyon. Gorges here are filled with yellow savannah grasses, sculpted buttes, vertical rock walls and, best of all, deep canyon floors shot through with streams, lush vegetation and pools for swimming. All of this changes with the light, culminating in extraordinary sunsets beneath a big sky. At more than 800 sq km, there's plenty of room for exploration, with everything from two-hour to week-long hikes. Add all this to easy access off the RN7 and you understand why this is Madagascar's most visited park and one of the top things to do in Madagascar.
04.Take a Antananarivo City Tour
Founded by the king of the Merina people at the beginning of the 17th century, the Malagasy capital is steeped in history. Known locally as Tana, it also served as the capital for French colonialists in the early 19th and 20th centuries and remains the island's center of political and economic power today. There is much to explore in Tana. For beautiful colonial architecture head to the old Haute-Ville area of the city. Get your cultural fix in the city's art galleries and museums, or soak up the atmosphere while browsing the open-air produce stalls at Analakely Market.
03.Sample the Malagasy Cuisine
Wherever your adventures take you, make sure you try the local cuisine. Traditional Malagasy dishes usually consist of either meat or seafood served with vegetables and rice. Spices are used sparingly, but the food is nevertheless flavorful. Try koba, a popular street food consisting of banana, peanut and rice paste wrapped in a banana leaf casing. Romazava is the traditional beef stew, while kabaro (curried lima beans and coconut) is popular in the Morondava region. On the coast, fresh seafood dominates the menu. Wash your meal down with the local Three Horses Beer (THB) or with ranonapango (sometimes called ranovola). The latter is made from burnt rice water and is definitely an acquired taste.
02.Shop at the Zoma Market
The world's second-largest open-air street market is in Madagascar's capital city of Antananarivo. There are many treasures sold in the bustling market.Here you can encounter the interesting Malagasy people, with their smiling welcomes and outgoing nature. This is the place to go for gemstone jewelry, wood carvings, embroidery, and other handicrafts. Leather goods and fabrics are plentiful. Shopping here gives you a chance to engage with the friendly locals on a more personal level.
01.Laze at Pristine Beaches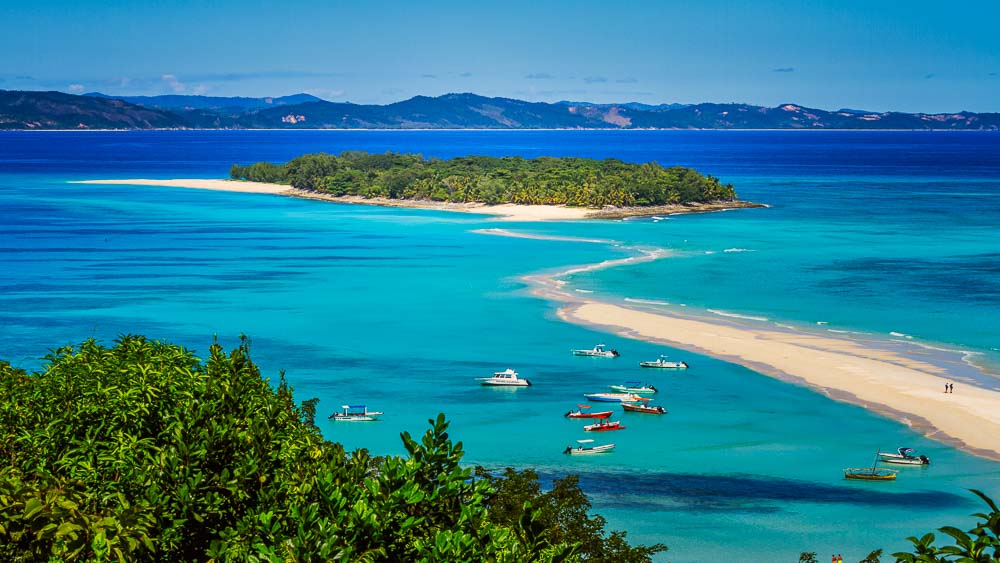 White sand, abundant palms and azure waters make Madagascar one of the most beautiful island destinations in the Indian Ocean and after an adventure packed tour of Madagascar's attractions come as a welcome relief for travellers who want to slow down and relax with a laidback vibe. Some of the country's best stretches of sand are found on outlying islands in the northwest. The beaches of nearby Nosy Iranja are frequented by nesting turtles; while on the east coast, Île aux Nattes is a tropical paradise with several options for accommodation and activities. On the mainland, the beaches around Anakao in the south offer reliable swells for surfing and kite-surfing. This is the topmost thing to do in Madagascar for the beach lovers.
Global Journeys organizes unique trips to Madagascar. Going on a tour with us takes the hassle out of planning and sightseeing and ensures you have experiences offered by no one else. Learn more about our Madagascar Journeys here