Welcome to India's Premier Birdwatching Destination, home to well over 375 species of resident and migratory birds, the meandering paths here are a nature lovers delight , throw in the abundant birdlife , and you have a perfect birding trip for the weekend. Particularly great for those just beginning to take their first steps in exciting world of birdwatching.
Barely 17km from Nainital, Pangot is a village surrounded by thick forests, quiet, streams & walking trails. And with more than 300 bird species that inhabit these woods, it is a natural attraction to birdwatchers from around the country and the planet. Without doubt , exploring the trails here is the best introduction one could get of life in the Himalayas.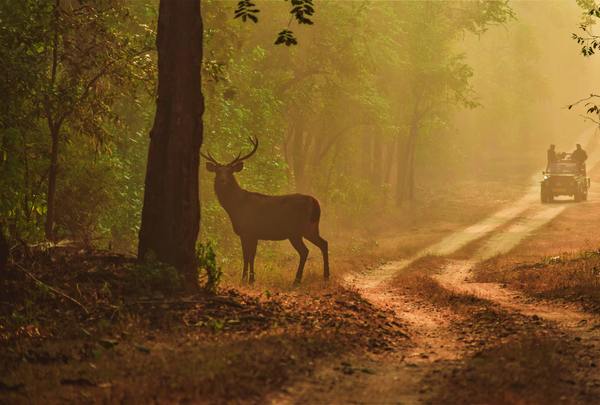 Step into the real life Jungle Book, In the heart of Incredible India, scout for big jungle cats on scenic wildlife safaris, get up close to bears on adrenaline thumping walking trails or simply gaze at the abundant birdlife while meandering across local rivers, For the serious wildlife enthusiast , the forests of central india are hotspots of unmatched flora , fauna and diversity.
Famed as a haven for the one-horned rhinoceros, this is one of India's greatest wildlife experiences, situated on the banks of Bramhaputra with seemingly endless grasslands and wetlands, home to two thirds of the world's rhino population, sightings are virtually guaranteed, usually grazing peacefully.
A beautiful wild paradise nestled in a corner of Maharashtra , this is prime territory for the sightings of Royal Bengal Tiger and many other wild denizens , so if your tiger sightings so far have been nothing but a confused blur of a few seconds , then it is time to visit this tiger temple and feel blessed.
Named after the legendary British hunter Jim Corbett who bought the region International fame with his book about man eating tigers ,this park is home to stunning scenery, including jungle, grasslands, riverine and hilly terrain and an abundance of wildlife unmatched elsewhere in India, this is as close to a Wildlife Eden as we can get.
Lush sal and bamboo forests are interspersed with vast grassy meadows in this theatre of nature, completing the settings are the abundant wild residents of this magical forest, as you progress in your quest through this surreal landscape you enter the enigma that encapsulates the true essence of Tiger Land.
The barren, salt-tinted land of the Little Rann is nature at its harshest and most compelling, the sanctuary here is a place of mirages and barren vistas where the last remaining population of the Indian wild ass plods through the dust. Alongside the wild asses can be found foxes, wolves and masses of birdlife. Welcome to one of India's premier birding areas.
  Nestled in the sun kissed aravallis, in a forgotten corner of Rajasthan , Bera is the quintessential leopard country and a perfect base to track these spotted beauties , an inspiring example of sustainability, here humans have coexisted peacefully for centuries with one of the most elusive animals in the world – the leopard.
Were it not for its glass-like surface, Chilka Lake, Asia's largest lagoon, could easily be mistaken for the sea; popular for its million plus migratory birds that flock here in winter(particularly December & January) , from as far as Siberia & Iran , this is also one of the few places in India where you can spot the Irrawaddy dolphins.
This is largest mangrove forest in the world ,  a mist-shrouded, river-riddled swamp region of shifting tides, man-eating tigers and off-the-beaten-track adventures. This is truly wild terrain, and chug-chugging along its river channels into its swampy heart of darkness is as thrilling as it is serene and an experience you shall not forget anytime soon.
Tucked away in the western corners of India, lies the Gir National Park, host to about 400 of the only wild Asiatic lions left in the world. A lavish mix of deciduous forest and semi-evergreen and evergreen flora, acacia, scrub, grasslands and rocky hills. This is the land of the lion, and its main protagonist will hold a firm sway over your senses.