This Madagascar travel guide will answer all your questions about this fascinating country , read on and be better prepared for that once in a lifetime adventure.
Exotic, remote and intensely unique – casually referred to as the eighth continent – Madagascar is a dream destination for any wild lifer, with rainforests, mangroves, coastlines and deserts few places on earth offer such a dramatic kaleidoscope of nature, matched with an animal and plant life, 90 % of which can only be found here, you have a land so blessed, that it is a blessing to land on it.
This guide will help you plan a great trip to Madagascar (you can skip straight to the sections that interest you)
Madagascar Travel Guide- When to Go
Whilst Madagascar holidays can be enjoyed year-round, the principal wet season is from late December through to the month of March that often involves cyclones and is probably best avoided.
Thus the best time to go to Madagascar is between the months of April through to mid-December. Being prepared for all weather conditions is always recommended as weather patterns do not necessarily stick to the traditional seasons.
Climate varies extremely across the island. The central highlands are cold and wet in May-October, but these months are the best time to visit Madagascar's dry southwest – where temperatures in the summer (Nov-Jan) are unbearably hot. Oct-Dec are great for lemurs – babies are born at this time. Birds breed in Sep-Dec, while humpback whales arrive at Ile St Marie in July and August.
Madagascar Travel Guide- Getting There
The main airport – Ivato International Airport (TNR) in Madagascar is located 20 km northwest of Antananarivo, the capital of Madagascar and is the point of entry for most visitors.
Kenya Airlines & Air Mauritius provide the best routes via Nairobi & Mauritius for travelers from major Indian cities such as Mumba, Delhi, Bangalore & Chennai. There are no direct flights presently and 01 stop over flights have a travel time of around 10 – 12 Hrs one way.
Madagascar Travel Guide- Getting Around
Madagascar is a huge place, the roads are often bad and travel times long, so being realistic about how much ground you want to cover helps  or you may find yourself confined to your vehicle every other day.
Private Taxis - Best Option for Madagascar Travel
If you can afford it, this is the best way to explore Madagascar. You'll be able to go anywhere, whenever suits you. The off-road driving can be great fun too.
Taxi Brousse (Bush Taxis)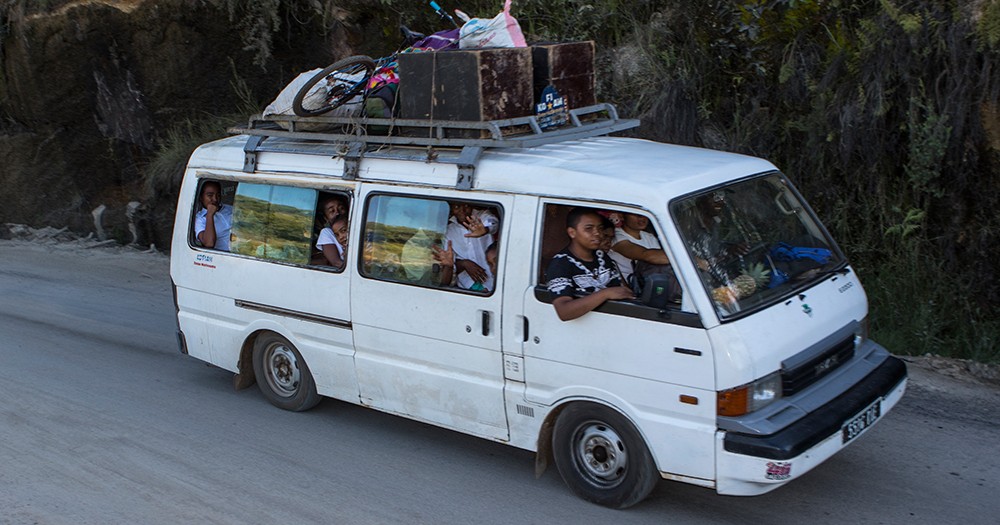 Slow, uncomfortable and not always safe, but they are cheap, go (almost) everywhere and you can't get more local than that.
A definite upgrade in comfort and punctuality on the taxi-brousse but they only ply the routes between Tana and big cities. Cotisse Transport is the main operator.
Huge time savers but expensive. Madagascar has a good network of domestic flights that help you cover ground fast and efficiently.  Tsaradia & Air Madagascar are the 02 main national carriers.
Madagascar Travel Guide - Visa Details
At present, tourist visas are required by all nationalities entering Madagascar. You can still get the Visa upon arrival, for a stay up to max. 60 days, all you need is valid return ticket and a passport that is valid six month beyond traveling date.
A 30 Day Visa cost 35 USD & 60 Day Visa Cost 45 USD. Do note that this has to be paid on cash upon arrival in either US Dollars, Euros or the local currency Malagasy Ariary.
The E-visa Website http://www.evisamada.gov.mg/ is  now functional and soon you will be able to book a visa online.  Beware of other scam sites, this is the only official site.
Madagascar Travel Guide- Money Matters
The local currency in Madagascar is Malagasy Ariary (1 USD = Appx 4000 Ariary), although most major currencies are accepted. US Dollars and Euros are usually the preferred one. Make sure your notes are relatively new as older notes can be harder to change.
There are very few cash machines/ATMs and those that are around will only dispatch Malagasy Ariary. Also it is not uncommon for the machines to be out of cash or out of order. It is often best to carry cash.
Credit card will work at most high end hotels, Visa is the most widely accepted. Amex & Mastercard often won't work.
Madagascar Travel Guide - Accommodation
From mobile camping to luxurious lodges, such as Anjajavy or Princesse Bora, there is something to suit every traveller's want and need. The standard of accommodation in Madagascar overall may be lower than mainland Africa, but the charm, character and atmosphere refuse to be compromised. Whether you are looking for spectacular luxury in remote settings, amazing proximity to wildlife, somewhere family friendly or oozing with romance, you will find it here. These below are the 10 Best hotels in Madagascar. If you can't find the property you are looking for, please do get in touch and we will talk you through even more options
National Parks of Madagascar
Madagascar is one of our favourite wildlife safari destinations for its endemic wildlife and most trips here involve visiting some of it's incredible national park , below is a list of the best parks in the country and the wildlife they offer.
01. Andasibe National Park
Probably one of the best lemur experiences in the world, Andasibe National Park is the best place to spot the Indri, the largest living lemur! Being close to the capital with a good road structure means that this is a popular park, especially as it is open all year round and almost guarantees lemur sightings. The eerie, yet beautiful call of the Indri can be heard over a mile from the park, building up the excitement. Seeing them in the wild is always an exhilarating experience; their strong legs carrying them from branch to branch, feet rarely touching the floor.
Meet the fascinating animals that call this country home here
02.Ranomafana National Park
Meaning 'hot water' in Malagasy, due to the hot springs found in the area, Ranomafana National Park is one of the most picturesque national parks in Madagascar. The rare golden bamboo lemur was discovered and It now provides a protected environment for these endangered species and is one of the island's most accessible and appealing stops on any itinerary. There are some 30 endemic species of bird that are isolated to the region around Ranomafana including, but not limited to, the Henst goshawk, endangered crested ibis, velvet asity and Rufous-headed ground roller.
03.Ankarafantsika Nature Reserve
A vast area that combines deciduous forest, savannah and wetland, Ankarafantsika Nature Reserve is one of Madagascar's largest parks, occupying a staggering 1,350 kilometres. The area is a birdlife haven and a large number of visitors come for this reason alone, but there is a host of wildlife within the reserve that makes it an excellent attraction to include on a Madagascar itinerary.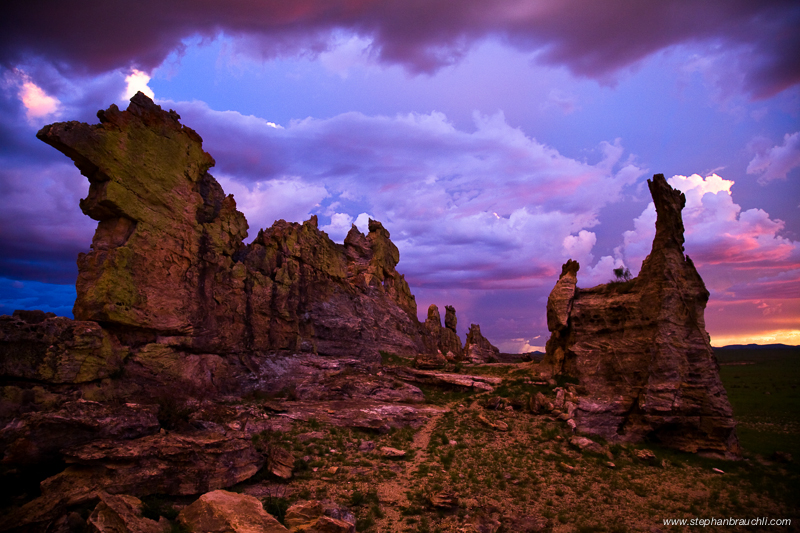 Nestled amidst the southwest terrains of sweeping canyons, dramatic bluffs and jutting rock formations, the Isalo National Park offers some rewarding trekking opportunities amongst natural pools and through uniquely Jurassic landscapes.
05. Masoala National Park
Known for its incredible array of biodiversity, the Masoala National Park and its offshore island reserve of Nosy Mangabe represent the largest of Madagascar's protected land areas and some of its least visited. The habitats you are likely to come across here are wide-ranging, from flooded forest marshland and coastal forests to mangroves, which collectively teem with life and provide a fascinating look at the island's many natural wonders.
Found in the southwest of Madagascar, Mikea is one of the country's newest national parks. One of Madagascar's most instantly recognizable environments, the spiny forest, can also be found here. Didieras – otherwise known as the octopus tree – are common sights here. Watch for another quintessential symbol of Madagascar, the ring-tailed lemur, as well as other species from the same family like the nocturnal brown mouse lemur – just a few inches long – and the charismatic Verreaux's Sifaka, whose hopping along the ground on two feet is sure to put a smile on your face.
Madagascar Travel Guide - Must Visit Destinations
Antananarivo – Vibrant, alive and chaotic, Antananarivo, usually termed by its colloquial short hand Tana, is the capital city of Madagascar and its political and economical powerhouse. Located in Antananarivo Province, this commanding city is usually the first stop for visitors to Madagascar, being home to the International Airport. However, to pass through Tana without stopping to explore would be to miss out on understanding the core of Madagascar's psyche. With a population of about 1.4 million, Tana is divided into two distinct regions; Lower Town and Upper Town. Upper Town is shrouded with purple jacaranda trees in the summer, and here you will find arts and crafts markets and intimate jewellers.
Ifaty – The Ifaty southern region is delightfully laidback, comprised of two small fishing villages called Mangily and Madio Rano. Between these villages you will find a collection of bungalow accommodation options, making it an ideal beach destination to unwind after your more active trekking and wildlife exploits on other parts of the island, or simply watch the traditional 'pirogue' fishing boats ply the gentle waters. Throughout the months of July and August, it is also possible to spot migrating whales as they pass.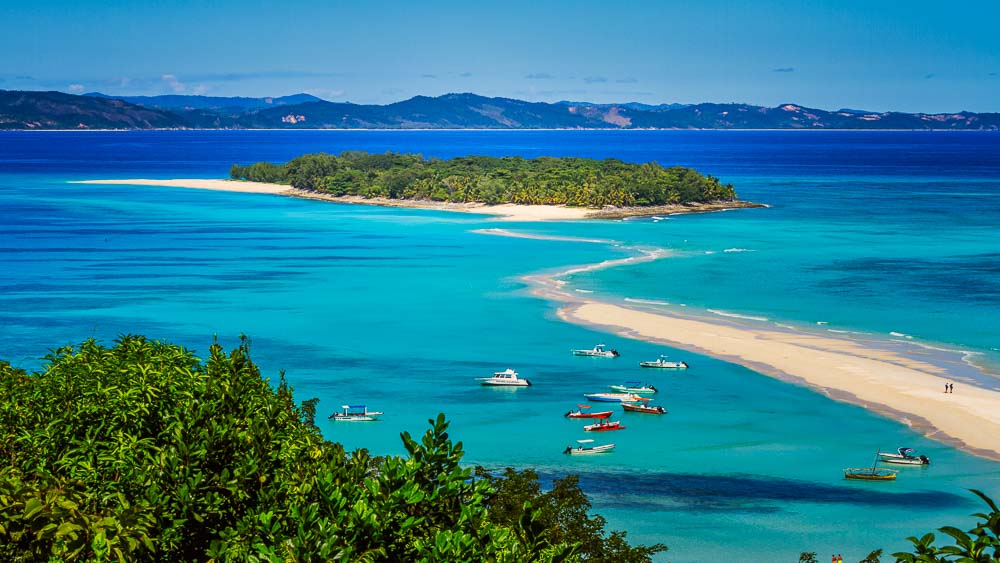 Nosy Be – Known for its vanilla, pepper and ylang-ylang infused air, brilliantly colourful sunsets and peaceful island life, Nosy Be, meaning 'Big Island', has firmly set itself on the tourism map. This large, volcanic island is easily accessible and acts as the main gateway to a stunning archipelago. Here you will find some of the best beaches in Madagascar, perfect for some relaxation after exploring the mainland's countless natural attractions. Located on the northwest coast, just 8 kilometres off the mainland, the history of the 'Perfumed Island' of Nosy Be dates back to the 15th Century when the first Indian and Swahili settlers were thought to have arrived. Today, the island is a popular spot for tourism with its main draw being its string of beaches, some of which are nearly deserted.
Il- Saint Marie – An island gem located just 8 kilometres off the eastern coast of Madagascar, the narrow Sainte Marie or 'Nosy Boraha' as it is known locally, has a considerable amount of island charm. Numerous deserted beaches show off a fringe of coconut palms and luscious vegetation, and intriguing inland villages make the perfect place to explore.Ikalalao is a great area of primary forest for exploring, and you may see up to three species of lemur – the Microcebus, mouse lemur and the fat-tailed dwarf lemur. On the east coast, the Ampanihy is characterised by sand dunes and rich mangroves, where tours can be arranged on a pirogue. In Ambodena forest you may come across chameleons, geckos, frogs and a wider variety of lemurs, including white-fronted brown, the rather rare black-and-white ruffed lemur, the grey gentle lemur and mouse lemurs.
Madagascar Travel Guide - Food & Drink
Food is taken seriously in Madagascar, where French, Chinese and Indian influences have blended with local eating traditions into an exciting and often mouth-watering cuisine. Regional variations are many, with a variety of fruit, vegetables and seafood dictating local tastes and recipes.
Eating rice three times a day is so ingrained in Malagasy culture that people sometimes claim they can't sleep if they haven't eaten rice that day. In fact, the verb 'to eat' in Malagasy, mihinam-vary, literally means 'to eat rice'.
Rice is eaten in a broth for breakfast (vary amin' anana); for lunch and dinner it is generally accompanied by a helping of meat, such as hen'omby (boiled zebu), hen'ankisoa (pork), hen'akoho (chicken) or hen'andrano (fish). Common preparations include ravitoto (stew – usually beef or pork – with manioc greens and coconut), sauce coco (a delicious coconut curry, usually with chicken, fish or seafood) and the nondescript sauce or ritra (generally a tomato-based affair; served with anything from chicken to fish).
To keep things interesting, the Malagasies have developed an arsenal of aromatic condiments, such as sakay (a red-hot pepper paste with ginger and garlic), pimente verde (a fiery green chilli) and achards (hot pickled fruit, such as tomato, lemon, carrot or mango, used as relish – you'll see bottles of the stuff sold by the roadside).
The most common alternative to rice is a steaming bowl of mi sao (fried noodles with vegetables or meat), or a satisfying soupe chinoise (clear noodle soup with fish, chicken or vegetables), dishes that show the Asian origins of the Malagasy.
Given that Madagascar is an island, seafood features prominently on the menu especially while you are on the coast. With incredibly low prices everyone can gorge themselves at whim on fish, freshwater crayfish, prawns, lobster and even tiny oysters from Morondava. Adhering to the motto that less is more, seafood is often cooked simply, grilled or fried, or in sauce coco.
The Malagasy don't find vegetarianism difficult to understand, and are increasingly becoming more accustomed to "vazaha" vegetarians, and are often more than happy to cater for special diets if you give them enough notice. The problem tends to be communicating what you do and don't eat; once this is clear, most kitchens can offer some vegetarian options. "Tsy misy hena" means 'without meat' and "tsy oman-kena aho" means 'I don't eat meat'. If you eat eggs, you will have no problem as any restaurant can whip up an omelette. If you don't, getting enough protein could be a problem, as beans and lentils are not widely available.
One of the first things you'll notice on arriving in Madagascar is the dizzying variety of snacks available at street stalls. Savoury snacks include meat samosas (called sambos), small doughnuts called mofo menakely and masikita (tiny zebu kebabs).
The log-like cake you'll see sold on roadsides is koba, a concoction of ground peanuts or pistachios, rice flour and sugar, wrapped tightly in banana leaves, baked and sold in slices. Hotelys also make delicious sweet doughnuts, which they serve with a cup of black coffee.
In towns and cities you'll also find plenty of patisseries selling cakes, croissants, pastries and meringues. Baguettes can be bought from every street corner, although the quality is often poor.
Romazava A beef stew in a ginger-flavoured broth. It contains brêdes mafana, a green leaf reminiscent of Indian saag in taste that will make your tongue and lips tingle thanks to its anaesthetic properties!
Ravitoto Another well-loved Malagasy dish, it is a mix of fried beef or pork with shredded cassava leaves and coconut milk; truly delicious.
Pizza Just like Indians and Americans, Malagasies have succumbed to pizzas! They are a popular treat among middle-class families and you'll find an inordinate number of pizza joints (often with takeaway) in every large town and city
What you eat in Madagascar will largely depend on where you eat. Hotelys or gargottes are small, informal restaurants found in every city and town. They are cheap and serve no-frills, typical Malagasy fare such as romazava (beef and vegetable stew), poulet sauce (chicken in tomato sauce) or grilled fish, with a mountain of rice for bulk. The quality ranges from rough to delicious. The tastier Malagasy food is often served in private homes, and what better excuse to make friends with the locals!
Restaurants, which range from modest to top-end establishments, serve various types of cuisines, including fancier versions of Malagasy standards. Quality is invariably good, sometimes outstanding. Many restaurants offer a menu du jour (three-course set menu), or a plat du jour (daily special), which are generally good value. Prices for the set menu is usually around Ar15,000 to Ar25,000. For à la carte menus, the average price of a main course is Ar12,000 to Ar25,000.  
Note that in most tourist areas, hotels have the best (and sometimes only) restaurants, which means you'll eat most of your meals there.
Madagascar Travel Guide - Practical Travel Tips
Tourist visas are required by all nationalities and are available upon arrival, for a stay up to max. 60 days, all you need is valid return ticket and a passport that is valid six month beyond traveling date. A 30 Day Visa costs 35 USD & 60 Day Visa Costs 45 USD.
The local currency in Madagascar is Malagasy Ariary (1 USD = Appx 4000 Ariary), although most major currencies are accepted, US Dollars and Euros are the preferred currency.
Malaria is a potential threat, we suggest having a good stock of mosquito repellant and wearing long pants / full sleeves to avoid mosquito bites while exploring the rainforests and jungles.
Always drink bottled, boiled or treated water during your time in Madagascar.
In Madagascar the standard voltage is 220 V and the plugs required are those with two circular prongs.
Madagascar is 3 hours behind IST and does not observe daylight savings.
Orange, Telma, and Airtel all sell sim cards with Data and you can pick one up either at the airport or the Antananarivo city centre.
Ivato International Airport is 20 Kms away from the city centre and it is recommended to arrange for airport transfers and schedule at least an hour for transfers to and from the airport keeping in view the traffic situation in the city.
Malagasy is the official language along with French, English is widely spoken by people in the tourism industry.
Climate throughout Madagascar changes rapidly. While the cool rainforest fog may send shivers down your spine in the morning, you can jump in the car and find yourself in a desert ecosystem by late afternoon. Therefore, you will want to pack a variety of clothing.
Madagascar Travel Guide - Responsible Travel
Responsible tourism in Madagascar is not all about volunteering with communities or planting native trees. While donating time or money can go some way to helping this struggling island, the best thing you can do is travel well – ensuring you support rather than damage the remaining tracts of forest, and that your money goes directly to local people rather than multinational resorts. Better for the lemurs, better for the Malagasy, and – we believe – a much more memorable holiday for you.
Poverty is the biggest issue in Madagascar. Without tackling this, nothing will change. So make sure you get out and experience the real Madagascar and share your spending money with real people. Shop at the markets, use local guides and buy local food. It does make a difference.
Support the national parks systems and don't resent the entrance and guide fees. As long as local people, from government to grass roots, can see that conservation equates with burgeoning coffers, they will have a reason to protect the land and the species that live there.
Sapphire mining has gone crazy in Madagascar since 1998 when a seam of high-quality sapphires was found in the Ilakaka river valley. If you are tempted into buying some locally, you should be aware that children are used to source sapphires, as they are often sent into deep, narrow tunnels. This is best avoided.
When shopping locally beware of anything made of illegal hardwoods such as rosewood, and also anything made from shells (including tortoise), coral, fossils or snakeskin. To get your message across to the vendor tell them it is fady (taboo) for you to own these items.
Malagasy people are keen to be involved in conservation and tourism projects, meaning that organisations which truly engage with local communities have been welcomed with open arms. Seek out organizations which are not only working with local people, but teaching and supporting them to create their own sustainable ways of living.