These resorts are perfect for staycations near Mumbai during the times of COVID 19
Being cooped up in our homes for the last 5 Months has been challenging and mentally exhausting. All of us are looking forward to getting out of our homes and make the most of our weekend.
Perhaps you just need a break and not a vacation? Maybe you don't want to travel too far but would still like to be a bit cutoff. We hear you, so here's a list of 9 perfect resorts near Mumbai for you to explore.
Just a hop , skip and jump , most of the resorts are at a driving distance from Mumbai  making them perfect for a safe road trip during the times of Corona. Each of them are equipped with all the precautions and protocols needed for a safe holiday and offer wonderful locations – meaning you don't even have to get out of the resort.
09.Verandah in the Forest
With Just 11 rooms filled with a panorama of 700 years,  this unique, heritage hotel, built in the 19th century is the best choice in Matheran.
Run by the Neemrana group, this beautiful resort is steeped in history. Saunter over to the salon with a ceiling that's 35 metres high or stroll down to Charlotte Lake for some me-time. The property has been painstakingly restored to all its former glory. As you enter the resort, you can't help but think of a bygone era.
Now we all know of the good ol' Radisson Alibaug, but here's a new addition from the Radisson family. Located just beyond city limits, Karjat is famed for much more than just its vada-pav, especially in the monsoon, when the entire region comes alive with greenery and waterfalls. The resort boasts world-class service with sparkling pools and manicured landscapes that are committed to providing a stress-free environment. This is the latest addition to the luxury staycations near Mumbai.
Cost per night: Approx INR 8000 per night
Address: Village – Khandpe District – Raigad, 410201 Karjat India
Contact: +91 2148 240240
Looking for an International Holiday – Check out our Maldives Travel Guide and learn fun ways to explore this paradise nation.
07.Le Meridien Mahabaleshwar
If unhurried relaxation is what you are seeking, then Le Méridien Resort and Spa in Mahableshwar is what you shall find. Located in the centre of an evergreen forest in the Western Ghats, the resort stands secluded from the outside world and brings guests in touch with nature and tranquility. It may be located in the middle of 27 acres of forest but it has top-class amenities and luxurious setting. There are 2 pools, a gym, an activity centre and club to keep you and your family occupied.
Cost per night: Approx INR 16,000 per night
Address: 211 / 212 Mahabaleshwar – Medha Road, Mahabaleshwar, Maharashtra 412806
Contact: 18002582555 (Toll free number)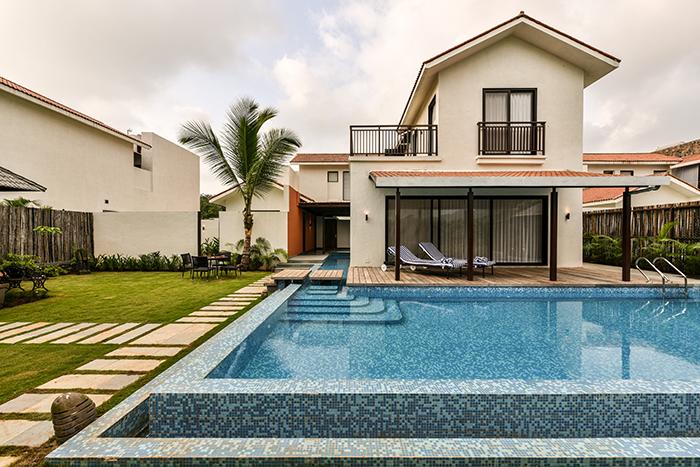 Spread across 12 acres of land , Tropicana Resort & Spa Alibaug is modern property set in the glorious hideaway of Alibaug. One of the most popular staycations near Mumbai, it is also accessible through a beautiful ferry ride from Mumbai. Facilities like library, poolside bar, 24-hour assistance and a spa managed by well trained professionals makes U Tropicana a wholesome choice for a relaxed staycation.
Cost per night: Approx INR 11,000 per night
Address: Chondi Naka, Mapgaon, Alibaug
Contact: 02141 232 143
Website:  N/a
This boutique resort is set in lush greenery and is a kaleidoscope of vibrant skies, sparkling waters, and an air perfumed with bliss and calm. Overlooking Pavana Dam, Amanzi offers a range of activities to indulge in from kayaking to trekking to paragliding. If you're looking for a romantic weekend getaway, then Amanzi is the one for you.
Cost per night: Approx INR 11,000 per night
Address: 440 Tikona peth, PAVANA DAM
Contact: +91 9821012163 / 9167526707
Website:  http://amanzi.in/
With the city life getting fast-paced and stressful, does your heart crave for a peaceful moment away from this hustle? Located in verdant Sahyadri range is Malhar Machi resort near Mulshi dam, God's own land where the view of lush green mountains and soothing Mulshi backwaters will detox your soul and give you the much-needed break. A Great choice for staycations
near Mumbai.
Cost per night: Approx INR 8000 per night
Address: At post Valne, Taluka, Mulshi, Pune, Maharashtra 411040
Contact: 088880 00055
Website: http://www.malharmachi.com/
With a location so pristine and peaceful that it leaves you simply awestruck, Hilton Shillim Estate Retreat and Spa is the quintessential luxury staycation near Mumbai you've been looking for all along. An abode of luxury, the resort greets its guests with its serenity, refreshing environs and unmatched comfort. All you have to do is pack your bags and set out!
Cost per night: Approx INR 15000 per night
Address: Pawana Nagar, Taluka Maval, Shilimb, Maharashtra 410406
Contact: 02114 712 468
Website: https://www3.hilton.com
Located in the heart of every Mumbaikar's favourite getaway, Lonavala, The Machan is considered as one of the most serene and luxurious staycations near Mumbai. With unique eco tree houses, the resort that connects its guests to nature's tranquility. Each machan or treehouse has been carefully designed to minimise any impact on its natural surroundings and the entire resort is completely off grid and runs only on sustainable resources.
Cost per night: Approx INR 20000 per night
Address: Private Road, Atvan, Maharashtra 401401
Contact: 076666 22426
Website: https://www.themachan.com
Tucked behind rolling hills and surrounded by the serene calm waters, Beyond by Sula is a luxury vineyard property with  minimalistic 3-bedroom SkyVilla with unparalleled lake views and a feeling of peace and privacy as well as 7 Lakeview rooms that are a little haven of peace and quiet. All rooms overlook the serene Gangapur lake and come fully stocked with the finest wines from Sula. This is our top choice for  staycations near Mumbai.
Cost Per Night: Appx 20000 Per Night
Address: Gat 36/2, Govardhan Village, Off Gangapur-Savargaon Road, Nashik, Maharashtra 422222
Contact: 078755 55735
Website- https://sulawines.com/
Head to one of these resorts now for a staycation and come refreshed and rejuvenated. Don't forget to check out our blog for more travel inspiration, trip ideas and latest deals on offer.
If you are looking for great deals on staycations near Mumbai , please get in touch with one of our experts at + 91 8879170009 or write to us at travel@globaljourneys.in